The 20 Best Small Business Apps You Need to Know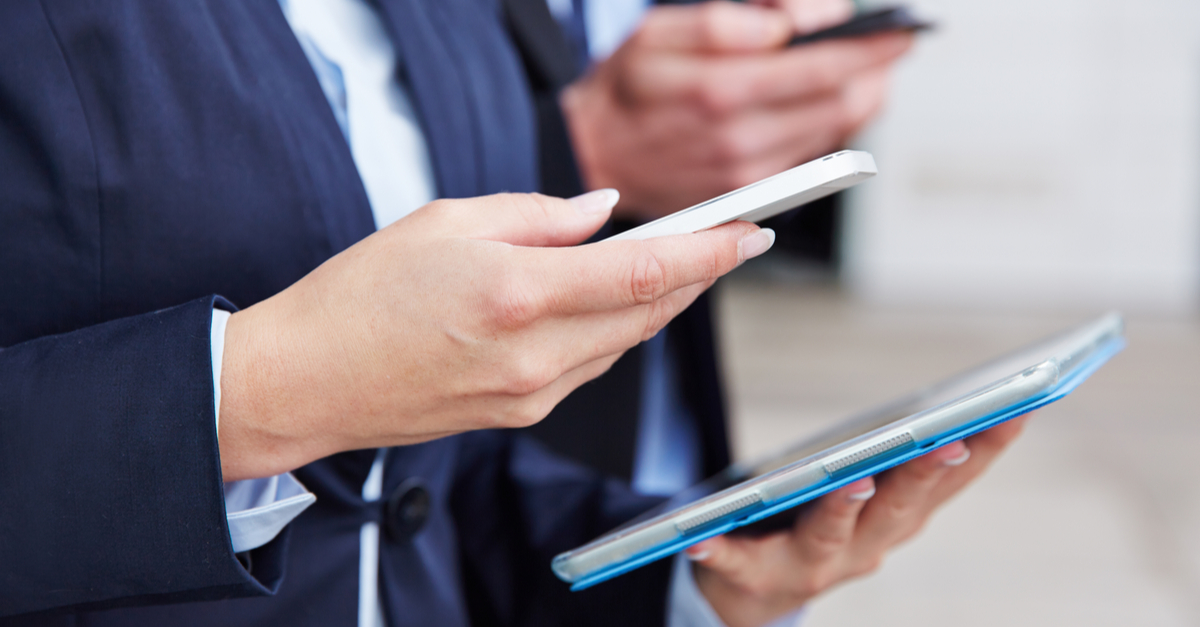 Share This Article
As a small business owner, you need to ensure everything in your business is running smoothly, all the time. So that means even when you're not in the office, you need to stay on top of everything.
Small business owners are always on the road, whether it's to strike business deals, attend events or to work on other ways to grow their business. Using productivity apps is a great way to ensure you and your employees are on the same page, creating a smoother workflow in your significant. Running your own business comes with a lot of responsibilities, like payroll, administrative issues, marketing, legal procedures, and more. You need all the help you can get to push your small business past the startup phase. To have effective operations and better productivity at your business, you need to automate whatever tasks can be automated. Nowadays, you can do almost everything with a smartphone! Whether it's a web, desktop, or phone app, these applications will help you and your employees.
After doing our research, we've gathered a list of the best small business apps in multiple categories that you need to know about. With these cost-effective apps, there isn't a business task you'll meet that you can't do expertly!
Best Small Business Apps for Communication:    
1- Skype:
Even if you're not personally familiar with Skype and haven't experienced it yourself, you must've heard of how popular it is. Being one of the most famous communication tools out there, Skype takes first place in communication for small businesses.
The free version offers unlimited features like free messaging, phone calls, and video conferencing. It allows you to be on a phone/ video call with 25 people at a time. It also offers screen sharing and file transferring. Skype is a great way to communicate when you're traveling or working with remote employees or freelancers. And it is a scalable solution, so as your business grows, you can upgrade to Skype for Business. It is included in the Office 365 Business package, offering Microsoft Office integration and meeting with up to 250 people at once.
The starter package is for $5 per user/ month (annual commitment).
2- Slack:
Slack is your go-to real-time messaging platform. Instead of going back and forth by email to communicate or share files and PDFs, you can get that done with Slack. It allows you to create public and private channels between your employees, that can be split based on departments or topics. This app has a drag & drop feature allowing you to share files without needing email quickly.
One of the apps best features is that it seamlessly archives all messages and files so you can easily search for them and pull them out when needed. It allows for unlimited users and most importantly, is free! For more advanced options, you can opt for the paid package that starts at $6.67 per user/ month (annually). This package includes app integration with major apps like Google Drive and Dropbox, unlimited searches, and storage.
3- Fuze:
When running a small business, you depend a lot on remote workers and freelancers. Fuze is a video conferencing app that allows you to set virtual meetings with all your employees no matter where they are.
This app is easy to set up and offers user training and materials; it works on all devices like computers, smartphones, tablets, or iPads. Use Fuze for high-definition video meetings when you're traveling or away from the office. Contact Fuze for further pricing details if needed.
Best Small Business Apps for Finance & Accounting:
When tax season comes around, this intuitive accounting software is going to be a lifesaver. There is a reason why QuickBooks is the most famous bookkeeping & accounting solution out there. Besides having an easy-to-use interface, QuickBooks allows integration with other major apps like PayPal and Square.
This app allows you to do all your accounting activities from your smartphone if needed; it also enables accountant access for taxes. Its key features include tracking sales & expenses, sending invoices, tracking unpaid invoices, receive payments, access profit & loss reports, balance sheets, and more.
QuickBooks online offers a free 30-day trial with a simple start package of $15 per month. They currently have a 50% deal on their website where you save 50% for 6 months!
5- FreshBooks:
FreshBooks Cloud Accounting App is a simpler version of QuickBooks, so if you don't need much accounting functions, this is a great solution. It doesn't offer double-entry bookkeeping, but it provides integration with other apps like PayPal, Basecamp, and Google apps. Its features include tracking expenses, receiving payments (credit card payments as well), creating invoices, access from all devices, and logging receipts.
The starter price is at $15 per month for up to 5 clients and $10 per person, and you can add more team members to help with accounting tasks.
6- Expensify:
This intuitive app blew up over the last few years with an almost perfect rating on App Stores! It is a clean and straightforward app to track business expenses and reimburse employees. You can sync your credit/ debit card or bank account to your Expensify account to automatically track charges and add them to expense reports. And you can also take a picture of receipts, and it will capture what it needs for you to create an expense report.
This also comes in handy in tax season, making tax deductions less confusing. It tracks mileage too, so employees can track their trips and submit expense reports for approval. It also features integration with accounting software. You can set up your account for as little as $5 per user/ month and $9 per user/ month for additional features.
Best Small Business Apps for Mobile Payments:
7- Square:
Square is the best option to give you flexible payment systems! This point of sale app is free to download and can be used as a mobile POS or with a card reader connected to your tablet or smartphone. There is no monthly commitment; it'll cost 2.75% per swiped transaction and the money will be transferred directly to your bank account in 1-2 business days. But if you manually enter in payment info, it'll cost 3.5% instead.
Square also offers even faster money access, in exchange for 1% of the deposited amount, you can get the money on the same day. Who doesn't love getting paid faster? One of Square's key features is that they offer a free card reader! You can also send receipts through email or text messages. Square is a lifesaver for small businesses looking for payment flexibility and business growth.
8- PayPal Here:
You probably already have a PayPal account and are familiar with how it works so what makes PayPal Here so great? It works exactly like Square but simpler. You can use your PayPal account to set up PayPal Here and there is no long-term commitment or monthly fees.
It accepts most payment types like credit or debit cards, you use a card reader with your device for on-the-go payments, it costs 2.7% per US card wipe (which is lower than Square). You can also send electronic invoices, record sales, process checks, and accept payments from a customer's PayPal account.
However, the money will be transferred to your PayPal account so you'll need to transfer it to your bank account which can take up to 3 business days to settle.
Best Small Business Apps for Time Management:
9- ClockIn Portal:
Time management is essential for small businesses. With limited resources, wasted time is not something to be taken lightly. With time tracking software like ClockIn Portal, you can efficiently track your employees working hours and track work progress.
ClockIn Portal has a clean and simple interface; it can be used on your computer, Apple and Android devices. With this app, you can control access points and define where your employees can clock in from, ensuring they're at the office. Employees will be able to clock their breaks, add manual hours and submit for approval if needed, write shift notes, track mileage for reimbursement, and more.
It even helps make payroll easier by automatically creating timesheets that can be exported to payroll and accounting software. Sign up for as little as $4 per user/ per month and enjoy a one-month free trial. Supervise your employees work from home with a cloud-based, mobile app.
10- TSheets:   
Another time tracking solution is Tsheets, similar to ClockIn Portal, you can use this app to track employees working hours from your mobile device. This will easily help you keep track of their breaks, vacations, and overtime.
A key feature about Tsheets, besides automatically creating timesheets is that it integrates with QuickBooks and Square for a smoother accounting process. This mobile app is free for one user and costs $4 per user/ per month.
Best Small Business Apps for Project Management:
11- Asana:
Why is this number one for small business project management? Because it's free for up to 15 users! Asana allows for simple and clear tracking of all projects and tasks. This web-based app allows your whole team to collaborate on projects. You can assign tasks, set due dates, attach files, leave comments under tasks, set separate projects, and much more.
This is by far one of the essential apps every small business should know , and you. It even integrates with other major apps like Slack, Evernote, Google Drive, and Dropbox.
12- Trello:
Another information and task manager is Trello, also known for being more visually satisfying. Trello focuses on team collaboration with its intuitive board idea. Create a board for each project your team is working on, drag and drop cards (tasks), assign tasks, create checklists, leave comments, and attach files from your computer, Dropbox, or Google Drive.
Trello has a basic free plan that is great, or you can upgrade to a business plan for $9.99 per user/ month for more app integrations, more security, and other additional features.
13- Basecamp:
Basecamp is probably the most well-known out of the project management tools; it has the highest ratings and reviews. It has all of the previous features of the other two apps like checklists, assigning tasks, and setting deadlines. You can also create calendars for specific tasks that everyone can follow up with.
This app has a flat monthly fee of $99 for unlimited users and projects and 500 GB of file storage, for businesses of all sizes.
Best Small Business Apps for Marketing:
14- MailChimp:
MailChimp is a number one marketing tool every small business should be using, especially if you don't have a dedicated marketing team. This app helps you create and control email marketing campaigns and newsletters. Create and automatically send customized, professional email templates. You can also track email performance, customer behavior, and get sales notifications.
The free package is set for businesses with under 2000 subscribers and less than 12,000 emails per month which seems like a perfect fit for small businesses. The Growing Business Plan starts at $10 per month if you need more advanced features.
15- Hootsuite:
Hootsuite is the best social media management app for small and large businesses. This platform allows you to automatically manage all your social media content and posts, to encourage post interaction and increase leads on its own! Its features include automatically scheduling posts, manage comments, set automated responses, track key metrics, access stored content, and more.
They have a 30-day free trial; the small business plan starts at $19 per month for one user, 10 social profiles, and unlimited scheduling.
Best Small Business Apps for Collaboration & File Sharing:
16- Dropbox:
This famous file-sharing software is excellent for personal and professional use, and if you don't use it already, you should start. This provides a great cloud-based, database for all your important files that you can access any time securely. The free package isn't great for businesses with only 2GB of storage space so you'll need to opt for Dropbox Business. This plan is $12.50 per user/ month with 3 TB of storage.
Dropbox is a flexible app with a simple drag & drop feature that allows for quick sharing, you can even request and share files with external users that don't have an account.
17- Google Drive:
Google Drive is the top choice for small businesses for many reasons. This app gives you access to the full G-Suite and allows for file sharing and editing through your smartphone or computer. You also get a free 5GB storage space to store docs and files which will be great if you're traveling and need to access these files.
You can opt for 30GB of storage space for $5 per user/ month or $10 per user/ month for unlimited storage space. You can also try it free for 14 days.
Best Small Business Apps for Customer Relationship Management:
18- Salesforce:
Salesforce is the most famous CRM software and for a good reason! They have a package to cater the needs of all businesses, no matter the size. The could-based app can be used on your smartphone or computer. Its key features include contact information storage, tracking all customer interactions, tracking sales leads, sales forecast, analyzing customer data, and more.
Their starter package costs $25 per user/ month; they also offer solutions for sales, marketing, and other products that might help out.
19- Zoho CRM:
Zoho offers an open-source solution that allows scalability with your small business. It has an easy-to-use interface and has all the basic CRM functions like tracking sales leads, storing customer info, etc.
And the best part is that it's free! You have unlimited storage space and can add up to 50,000 contacts. For more features, you can opt for the next tier for $15 per user/ month.
20- Pipedrive:
This software is a great pipeline manager, with the main focus of boosting sales of small businesses. It allows you to control and track sales, filter leads, create accurate reports, and more. It offers a 14-day free trial, with a starter price of $15 per user/ month.
With this package, you get unlimited users limit, MailChimp integration, custom fields, and more. Pipedrive is the best for small businesses and has unmatched reviews and ratings.
Other excellent tools to check out:
These were the main 20 small business apps that we think all small businesses should know about. But that doesn't mean that your options are limited to these! There are so many apps out there that can facilitate your workflow and make your life so much easier.
Other apps to look into are Evernote, TripIt, Scanbot, PostScan Mail, and DocuSign. Here are small snippets of each app:
Evernote will help you with reminders and notes
TripIt is a great travel planner, it helps you organize your flights and view your itinerary offline
Scanbot is great for scanning documents quickly via your phone
PostScan Mail is a virtual mailbox allowing you to get your postal mail online
DocuSign lets you sign docs or contracts, online through your phone or computer
You may want to check also: 10 Best Ways to Pay with Your Smartphone
Enjoy this article? Don't forget to share.