10 Best Ways to Pay with Your Smartphone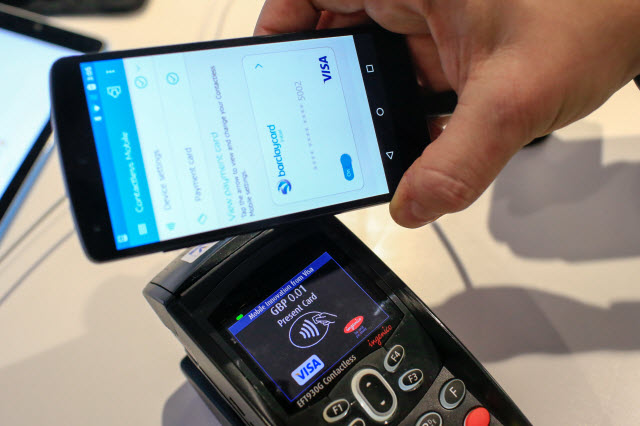 Share This Article
Ever since Apple shined a light on mobile payments in 2014 and this idea keeps on developing and getting bigger, with a new mobile payment app to check out every day. With the number of retailers and brick-and-mortar stores in the United States that accept mobile payments increasing, the day that you'll no longer need cash or credit and debit cards for shopping is quickly approaching.
A mobile payment service is a wallet-free way to shop on the web, through apps, and even in physical stores. It puts an end to scrambling through your bag for cash and looking for your cards while shopping. If you're like everyone else, you'll have your phone on you and that is all you'll need!
What is a mobile payment?
Mobile payments use a contactless technology like NFC (Near Field Communication), QR (Quick Response) codes, mobile web payments, bank transfers, or peer-to-peer transfers to pay for a purchase or give money to someone. The most common method is NFC, which is used by Apple Pay, Google Pay, and Samsung Pay. You store your financial info (debit or credit cards) in your mobile wallet and use the "tap-to-pay" method to pay for your items.
When you're going to check out, confirm with the vendor that they have a contactless terminal. You're required to confirm your identity for security which is an added benefit; it will either be through a PIN or using a biometric characteristic like fingerprint ID, facial scanning, or iris scanning. When your identity is confirmed, your phone will generate a token or a special code (without giving out your card number or financial info to the store) giving approval for the terminal to deduct the specific amount.
Peer-to-peer (P2P) transfers have spread widely for transferring small amounts of money. For example, if you need to pay back a friend or split the bill for dinner with a group of friends, this is the way to go. We'll get into details on what the best apps are and why everyone is buzzing about this.
Mobile payments are a quick, hassle-free process that gets payments done faster than retrieving cash or swiping a card. It offers enhanced security to you.
Why is it better than using cash or cards?
Better financial security, you won't need to worry about your credit/ debit cards being stolen or scammed because the seller never has access to your credit card information and you'll never need to pull them out of your bag.
A quicker transaction, instead of wasting time searching for cash or your cards, pay with your phone in just a few seconds.
Major US retailers like Macy's, Target, Walgreens, Best Buy, and many others are using NFC payment terminals and it's only getting bigger.
Brick-and-mortar stores are integrating loyalty programs, rewards, and coupons with contactless payment services encouraging customers to come into stores and shop.
Here are the 10 best ways to pay with your smartphone: 
Starting with the most popular mobile payment software, these three set the bar high for all mobile payment options that followed and were the start of this phenomenal epidemic. They are also the most three used throughout the recent years.
Even though Google wallet was released in 2011, allowing consumers to save their financial info on a cloud-based wallet, Apple is number one on our list because it marks when mobile payments truly started being used place in the market. Statistics show that Apple Pay has the most number of users throughout 2017, with 86 million users putting it on the top.
You will find this app pre-installed on all Apple's recent products (starting from iPhone 6 and later), the phones are integrated with NFC technology. You can use it with web stores, within apps, and with physical stores that have contactless terminals. Pull out the Wallet & Apple Pay option from your iPhone or Apple watch and add your credit/ debit cards and so you can pay with your watch even if you don't have your phone or wallet.
For security, iPhone 6 uses the fingerprint ID and iPhone X has the face recognition as an identity check, as for the Apple watch; double click on the side button to activate. Following a tokenization method, it creates a unique code for every transaction so no payment info will ever be saved with stores.
Samsung Pay definitely changed the game with mobile payments since its release in 2015, what makes this software special is that it works with contactless (NFC) terminals, MST (Magnetic Secure Transmission), and EMV (Europay MasterCard Visa) terminals. This means it has a broader market and can be used in stores that accept debit/ credit cards and mobile payments. Another amazing feature is that it can be used in all recent Android devices (from Android Lollipop and after) not just Samsung and Gear S2/ S3 watches. This put Samsung Pay as the top for Android users with 10 million users more than Android Pay in 2017 alone.
It works just as Apple Pay, letting you save card info, gift & loyalty cards in your wallet. You also need to verify your identity by fingerprint sensor, facial, or iris scan before using it and place it near the contactless reader. When the payment goes through, you get a confirmation and can access your past purchases that are saved on the app at any time.
It is no surprise that Google started this innovative idea with Google wallet, the start of mobile wallets. However, Google wallet is mostly for peer-to-peer transactions and so Android Pay made its way to the scene in 2015 for tap-to-pay purchases. Google decided to create a product that has blends both products in one, with the P2P feature and the tap-to-pay feature. Google Pay (its official name since January 2018) functions the same way as the first two and allows you to store credit cards, gift cards, and loyalty cards too, it can also be used in stores with a contactless terminal or online.
Google Pay works with all Android devices (not just Samsung) and uses NFC technology. However, with Android devices, you need to make sure NFC is enabled on your phone, tablet, or watch. Go to the Settings then pick the NFC tab and make sure it is on, then pick the Tap and pay option to activate it. Reopen the app and it should be valid to use (after verifying your identity by fingerprint sensor or a passcode). Google Pay definitely left its mark and is commonly used in a lot of Android apps and in more than 1.5 million retail stores worldwide. But of course, after Samsung Pay's advantage, it takes third place on our list.
Other Mobile apps to consider:
It is the oldest mobile payment system and most convenient for users for its simplicity. PayPal is a peer-to-peer app that lets you easily transfer money to other bank accounts for free. However, the other person must have a PayPal account. You sign up with your phone number and email address, and then you can just add your bank info and start accepting or sending money. It also comes with its own rewarding system giving you online discounts and other great offers.
This P2P app is known for its friendly interface and a social messaging app, it is used mostly among millennial's because it's free, and you can use for splitting a bill or borrowing money. You can easily pay by text message whether by sending money from your phone number, email, or Facebook account. This app is highly popular however, you must have an account to receive or send money.
This app uses a QR technology, a code is generated and the vendor scans it to confirm payment. It is used to make payments for small businesses or customers and offers rewards and loyalty programs.
It is also used to pay small amounts or send money to individuals and the best part, the person being paid does not need to have a Square account. You can send money to an email address but the merchant needs to have the app downloaded to use it for buying. You can add your debit card for free but a small percentage to add your credit card. It is well known in the coffee chains stores and even has a partnership with Starbucks.
Even though Google has evolved this app into Google Pay, Google Wallet still has a huge customer base and is normally used for peer-to-peer money transfers.
This food-specialized app is great for restaurants and bars, it is integrated with Google Wallet to easily store your debit/ credit cards and is mostly used to split the bill with friends. It has unique features like allowing you to add a tip and even leave your feedback.
It is specified to windows phone users, you can add your payment info into your Microsoft wallet and use it for payment at checkout using a tap-to-pay method.
Our top three choices are most popular for shopping online, within apps, or in physical stores and paying with your smartphone. Researches have proven that by the end of 2020, most of the retailers nationwide, if not all, will have contactless payment methods.
Enjoy this article? Don't forget to share.