What are the Top 10 News Apps for iOS and Android?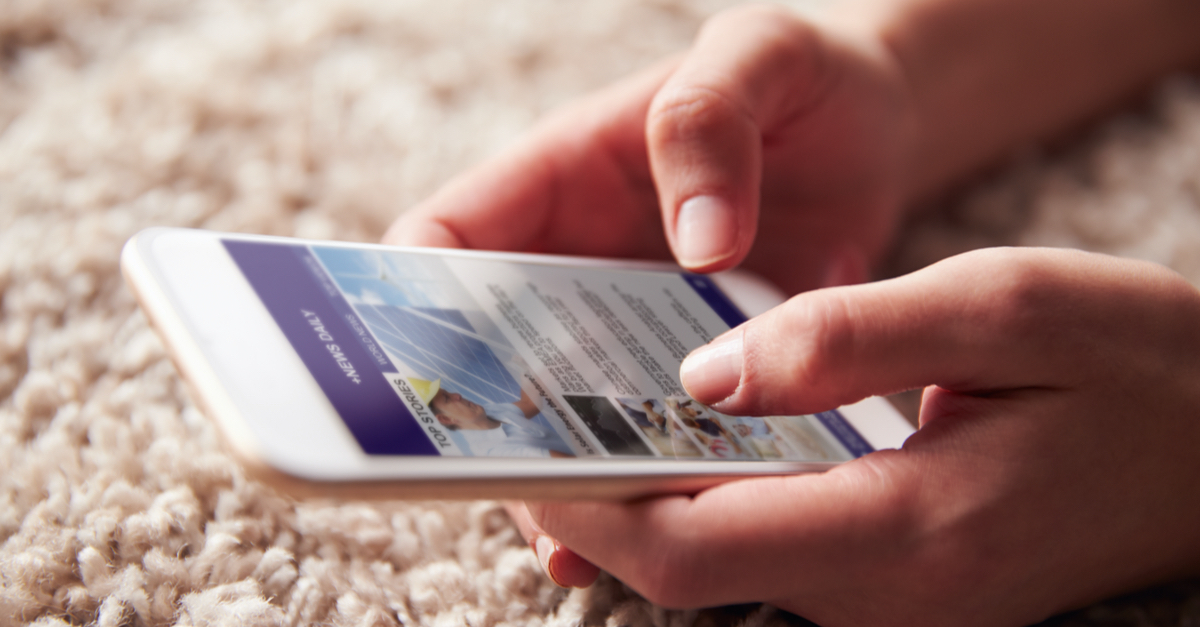 Share This Article
Even though we currently have an abundance of news outlets, it's hard to find a news source tailored to your needs. Whether you want to keep up with politics, breaking news, world news, or sports, there is almost always something new to find out. We used to depend on newspapers, news channels, or the radio for news, but that has now shifted to news aggregators like news apps on smartphones.
You want your news to be on-the-go with you when you're on transportation on your way to work or waiting to be read before bedtime. Why miss out on something big when you can save it for later? Big tech companies like Google, Microsoft, and Apple quickly realized the demand for news apps and created their versions that curate all-you-can-read content for their subscribers.
How did we put together our list?
When looking for the best news apps, we put multiple factors into consideration when searching like simplicity, personalization, navigation, offline options, night modes, smart algorithms, and popularity and ranking. Whether you're looking for a personalized feed, breaking news headlines, or in-depth pieces – you'll find one or multiple apps below catering to your needs.
Top 10 News Apps for iOS and Android
Google News:
Google News is an excellent app for local and global news, and it's free for both iOS and Android platforms. For a morning briefing, there is a feature called "Your Briefing" that displays five top relevant headlines to stories you're following, and you can check out the individual stories to go more in-depth or click on "full coverage" for related articles on the same topic, from different sources. You can also save articles for later to read or add them to your favorites.
And since Google News is powered by Google's aggregation engine (one of the best in the world), you can create a personalized feed that consists of your preferences and searches. The app has tabs for different categories, including a World tab that you can check out and follow specific topics for updates. You can also share interesting articles with others by email or social media. That is a straightforward and concise app to get news and updates at your own pace.
The app also offers a dark mode, and it's excellent for reading in the dark or when the phone's in low-battery mode.
Apple News
Apple News is a pre-installed app on your iPhone or iPad, so you don't need to download anything, but you do need to set up an account. And if you've removed the app, you can easily download it from the App Store. Even though this news app is only for iOS, we think it's worth mentioning since it's such a crowd-pleaser!
Offering a clean and straightforward aesthetic, Apple sources its news from multiple channels and magazines and personalizes your feed based on your reading habits or based on the channels, topics, and stories you're following. The app also offers premium news subscription for $9.99 per month for access to over 300+ digital news publications like Elle, WIRED, TIME, etc. You can follow up on your magazine subscriptions from here as well (instead of needing to open the magazine app). Apple News is a number-one destination for news from top outlets around the world. But even though the free version is excellent, you will need to get the paid subscription to enjoy the app's full benefit – which may be a disadvantage.
Microsoft News:
Microsoft News, previously known as MSN News, is an easy-to-use news app, and similar to Google News, it tracks your preferences and lets you choose topics and personalizes your feed accordingly. It is available in multiple languages, which is excellent if you want to read the news in a different language – one main reason as to why it ranked on our top 10 list.
The app offers a "Local News" tab where you can stay up-to-date with the latest news in your area, and it lets you choose between dark and light themes as a layout. It has a simple and clear interface, with the feed split into sections of trending topics in multiple categories. You can also save articles to read later, offline. Microsoft News is free for both iOS and Android.
Flipboard:
Flipboard is a visually-appealing app that presents news to you in a magazine-style format, with attractive images in large grids per news piece. It offers a wide variety of topics to follow, from politics and business to recipes and entertainment. All the news articles from your preferred topics will be beautifully displayed in the "For You" tab where you can flip through headlines.
You can follow magazines or channels like The New Yorker and Wall Street Journal, favorite articles to go back to later, gain followers, and share news with others through Facebook, Twitter, WhatsApp, etc. The app also has an explore tab where you can find new topics and publications, and it allows you to create a personalized digital magazine that you can share with others as well. Flipboard is available for free for both iOS and Android. Unfortunately, the app doesn't have a dark mode yet.
SmartNews:
SmartNews is an app, available for iOS and Android, which uses an intelligent algorithm to dig out trending news smartly and categorizes them so you'd be able to get a full update in less than a minute and choose your next read. The app has a reputation of using credible news sources like USA Today, NBC News, and more.
There is a tab manager where you can switch between multiple categories and a discovery tab where you can explore new categories. Most importantly, it has an offline feature where you can save articles and read them offline.
Feedly:
Feedly features an RSS reader, which allows you to create a list of all your favorite topics, publications, blogs, and channels – that is continuously updated with their latest news and top stories. You can bookmark the pieces you like, to go back to read later, and it has integration with Evernote, Pocket, Facebook, OneNote, Pinterest, and other platforms.
You can find relevant articles in your niche/selected publications in the "Me" tab, and you can use the "Explore" tab to find new topics/ channels to follow. Feedly also offers a dark theme and a few formatting options, but we mostly liked its flexibility in integration with many platforms. You can find Feedly, for free, in both iOS and Android App Stores. You can also get a premium account for $7 per month for a more optimized search and better integration.
AP News:
Associated Press is a news website, with local, national, and global news coverage; their app is available for iOS and Android and uses the site as well as other publications as news sources. The app is free and offers basic features like choosing topics to follow – but it has ads, which may be an inconvenience, but it's an excellent option for a free news app.
You can also check their photo gallery and get news through videos and radio. The app has a notification feature to send alerts with any updates on the story you're following.
Inoreader:
Inoreader has an intuitive and visually-appealing design that allows you to customize your feed according to your preferred topics. There are 28 pre-made topics to choose from, and it is similar to Feedly but more comfortable to set up. And the best part is that it keeps tracks of articles you've already read so you can say goodbye to repetitive content!
Inoreader is free for both Android and iOS, and it has a special version for iPads. The app also has an offline feature to save articles for later and is also an RSS reader, so you can subscribe to your favorite channels and publications through it and follow up on their news through the app. It also has a sharing feature to share articles with others and a night mode to read in the dark. Inoreader is a simple alternative to more advanced news apps.
News360:
This newsreader app has it all; it offers readers in-depth articles and rich content from over 100,000 sources to show you all the sides covered. It lets you choose your preferred topics, like the rest of these apps, and personalizes your feed accordingly. It also tracks your reading preferences and tweaks your feed to show you content you'd like to read. This app is available for iOS and Android platforms.
It is not limited to region, unlike Apple News, you can access these sources from any location – making it the most flexible option. The app also has integration with iMessage, Evernote, Pocket, and social media platforms like Facebook and Twitter. Ads are displayed, but they are removed with the paid subscription version, which is either $1.99 per month, $4.99 per three months, or an annual $15.99 plan.
Inkl:
One thing that can be annoying with news apps has clickbait articles always take over your feed. Inkl made it their goal to ensure you don't get any of these articles and no ads either! Unfortunately, the app isn't free. There is a one-week free trial then you need to sign up for a $9.99 subscription plan for unrestricted reading. The good part is that you'd only be getting useful content from publications and writers you like. You can also filter the news, save articles, favor articles, and have access to multiple credible news sources like The Washington Post, The Guardian, Times, etc.
The app features a "Good News" tab where it only features just that, a place you can always go to brighten your day. The Inkl interface is intuitive and clean, with easy-to-use features. The app is available for Android and iOS, and it also has a dark theme for nighttime reading.
Conclusion:
This concludes our list of the top 10 news apps you can find for both iOS and Android; one or a few of these apps will answer all of your questions on everything from legislative updates to entertainment gossip and give you your daily dose of news.
Enjoy this article? Don't forget to share.